After Jared Samuelson hit his third 3-pointer in the first 10 minutes of action Saturday night at Dahlberg Arena, he ran back on defense nodding his head and smiling a smile of satisfaction.
These are the moments Samuelson has dreamed of having for most of his life.
The son of former University of Montana men's basketball standout Shawn Samuelson showed flashes of his skill as a freshman of his potential while playing for the Griz. The 6-foot-7 stretch forward played his sophomore and junior seasons for Rocky Mountain College back in his hometown of Billings, diversifying his skill set while keeping his eye on completing his full circle with the Grizzlies.
And Saturday night in Missoula, Samuelson's ability to rise to the occasion against rival Idaho proved to be one of the deciding factors as the Griz continue their reign over the rest of the Big Sky.
Samuelson found open looks from beyond the 3-point arc all night against Idaho's aggressive, trapping defense. He was able to pick and pop his way to nine excellent looks from beyond the arc. He nailed five of them. He also hit a floater in the lane in the waning seconds of the shot clock to give Montana a four-point edge with 19 seconds to play.
The Billings West product scored a career-high 23 points, making big bucket after big bucket in front of a season-high crowd of 4,279 that cheered Montana to a 67-63 win over a gritty Idaho squad that has been on the wrong side of tight games for nearly a month straight.
"Man, this makes me so happy," Samuelson said. "I'm just happy to be here, wear Montana across my chest, have support from the Missoula community, the Montana community. Best fan base in the country. This means a lot to me.
"You try not to get too high or too low but it's awesome to be here, playing for this crowd, hear them yelling for me and for us."
The win moves Montana to 6-1 in league play, 10-8 overall. The victory is also Montana's 1,000th home triumph in program history. The Griz are 1,000-409 on their home court, including 720-248 at Dahlberg Arena for a win percentage of .744.
"Going into this game, Idaho's four losses came by nine total points and each of those games, you can watch coming down the stretch, they are in it," Montana sixth-year head coach Travis DeCuire said. "Some of them, they have had leads. Young, inexperienced, they have some older guys, transfers and whatnot (UI has six junior college and nine total transfers), but they are young to the league, to the level.
"I just think experience has bit them a little bit and at some point, I think they will figuring out how to win these games."
Of teams who have been playing in their current home venue for at least 60 years, only Kansas, Duke, Oklahoma State, Vanderbilt and Wichita State have a higher home winning percentage than Montana.
"There's always an opportunity and to be a part of a place as special as the University of Montana, pretty much every time we touch the floor, you have an opportunity to play for something or maybe reach an accolade," DeCuire said.
"It's one thing to play in front of fans who want to win and hope to win. It's a lot different when you step on the court and you are expected to win. These fans support us in that way and it's a different vibe that you can't explain to people unless if you are a part of it."
Idaho fell to 1-5 in Big Sky play, 5-12 overall. Idaho has lost its five conference games by a total of 13 points. Saturday night was actually the largest margin of defense against a league opponent for UI this season despite 23 points from senior guard Trevon Allen, the leading scorer in the league.
"The guys are resilient," Idaho interim head coach Zac Claus said. "We have become one of the best short-term memory loss teams in all of America. These guys keep coming to work every day. They keep practicing. They keep having that pep in their step. And they keep bringing it every night when the lights are bright for games. I give those guys a whole lot of credit."
In the off-season, Samuelson graduate transferred back to the two-time defending Big Sky Conference champions for his final season. Because of a bothersome knee, Samuelson's first few months were hindered. His minutes in Big Sky play have been sporadic depending on the matchup.
He played 10 minutes in a 79-72 win over Northern Arizona. He played 13 minutes in a 90-63 win at Eastern Washington. He played nine minutes Montana's last time out, an 85-70 win over Portland State.
But Saturday, he played 32 minutes and shredded the Vandals, particularly early. Samuelson hit four of his first five shots. He scored 13 of Montana's first 21 points. Samuelson has particular success finding open shots because of the way Idaho defends high ball screens in the half court.
"I just had confidence from the gate," Samuelson said. "My teammates have confidence in me and we have confidence in each other. When that's flowing, shots go in.
"We watched a lot of film and I watched a bunch of film personally. I knew if I was open, shoot that thing."
And he hit two more 3-pointers after halftime plus the game-sealing bucket late against a pesky Idaho defensive schemed that, despite employing a 10-man rotation with eight players who were not on the team a year ago, fought until the final seconds of the game.
Samuelson started the Griz on the aggressive. Sayeed Pridgett and Kendal Manuel, UM's other two seniors, buoyed the Griz down the stretch after struggling earl. Pridgett missed seven of his first nine shots. But he managed to score 10 points after halftime and 17 points overall to go with six rebounds and two assists in 39 minutes.
Manuel scored nine of his 12 points after halftime, including a pair of free throws with nine seconds left that kept the Vandals at bay.
"We knew it was going to be a fight," Samuelson said. "That team could easily be 5-0 coming into this game if not for the close losses. We just had to stick to our rules, be confidence we were going to get the win, take care of the ball (13 turnovers). We had to trust in ourselves and close out the game the way we do it."
And it took several key plays for Montana to move to 7-1 at home this season. The Griz turned the ball over three times in the final 145 seconds, including Pridgett getting ripped in the lane, a steal that led to Gavin Chance's 3-poitner to cut the margin to 61-59 with 1:35 left.
With 1:09 left, Griz true freshman power forward Derrick Carter-Hollinger got called for a travel as he found himself out of control on a drive to the rim. About 20 seconds later, the high energy jumping jack blocked Babacar Thiobane's layup.
"Huge play and when I checked him back in, he knew his objective was to go get the ball, whether that was a blocked shot or a rebound," DeCuire said. "He did both.
"We have guys who are assuming roles, even if they aren't the most glorified roles, and that's what is making us a good team right now."
On the next Griz possession, every player on the floor touched the ball at least once and three of them, including Manuel, Falls and finally, Carter-Hollinger, touched it twice. The final dime, Montana's 13th helper on 25 made buckets for the game, was a Carter-Hollinger dish to a slashing Samuelson for a 10-foot floater that gave UM a four-point lead with 19 seconds left.
"The ball moved and that's what we were begging for all game," DeCuire said. "(Idaho), they collapse on the ball so if I think I'm going to get from point A to point B and shoot it, it's going to be pretty difficult to score against this team."
Allen came into the game averaging 21 points per league contest. He scored seven early points as the Vandals showed no fear in front of a hostile crowd. He made his first two field goals, his first 3-pointer and his first two free throws. But he missed six of his next eight shots spanning the first half into the second half.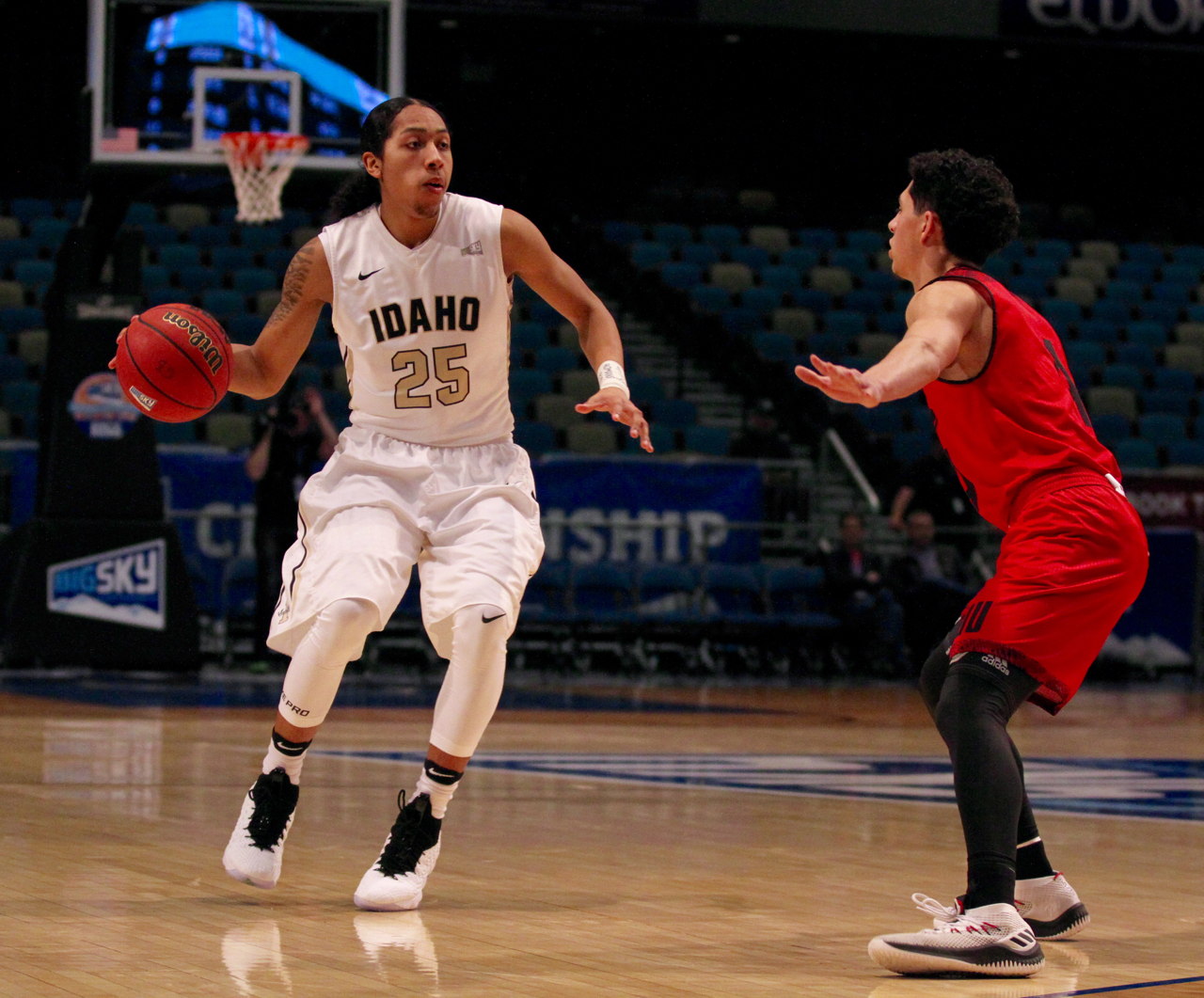 He missed seven of his final 10 shots from the floor and finished 6-of-15 on a night UI shot 43.5 percent from the field and 6-of-10 from beyond the arc. Allen was 2-of-5 from deep.
"You have to make him work," DeCuire said. "Timmy's foul trouble effected our ability the entire night. It would've nice to have Timmy on him those other eight minutes. Timmy only played 23. It's a little tougher for them but I thought we did well overall
Damen Thacker hit two 3s in the final 3:48 to keep the Vandals in it. His triple with three seconds left cut the lead to 65-63 before Manuel sealed the game with two from the stripe.
""We are very confident right now after getting some good wins under our belts," Pridgett said. "We are trying to go game by game and not overlook anyone, but we just want it the same."