BOZEMAN, Mont. – The Montana State men's basketball team will return three upperclassmen for the 2021-22 season as head coach Danny Sprinkle announced that Amin Adamu, Xavier Bishop and Abdul Mohamed will be utilizing an extra year of eligibility.
The NCAA announced last fall it would offer eligibility relief to winter sport athletes regardless of how many games they played during the 2020-21 academic year. The trio of Bobcats will use their fifth years of eligibility at Montana State.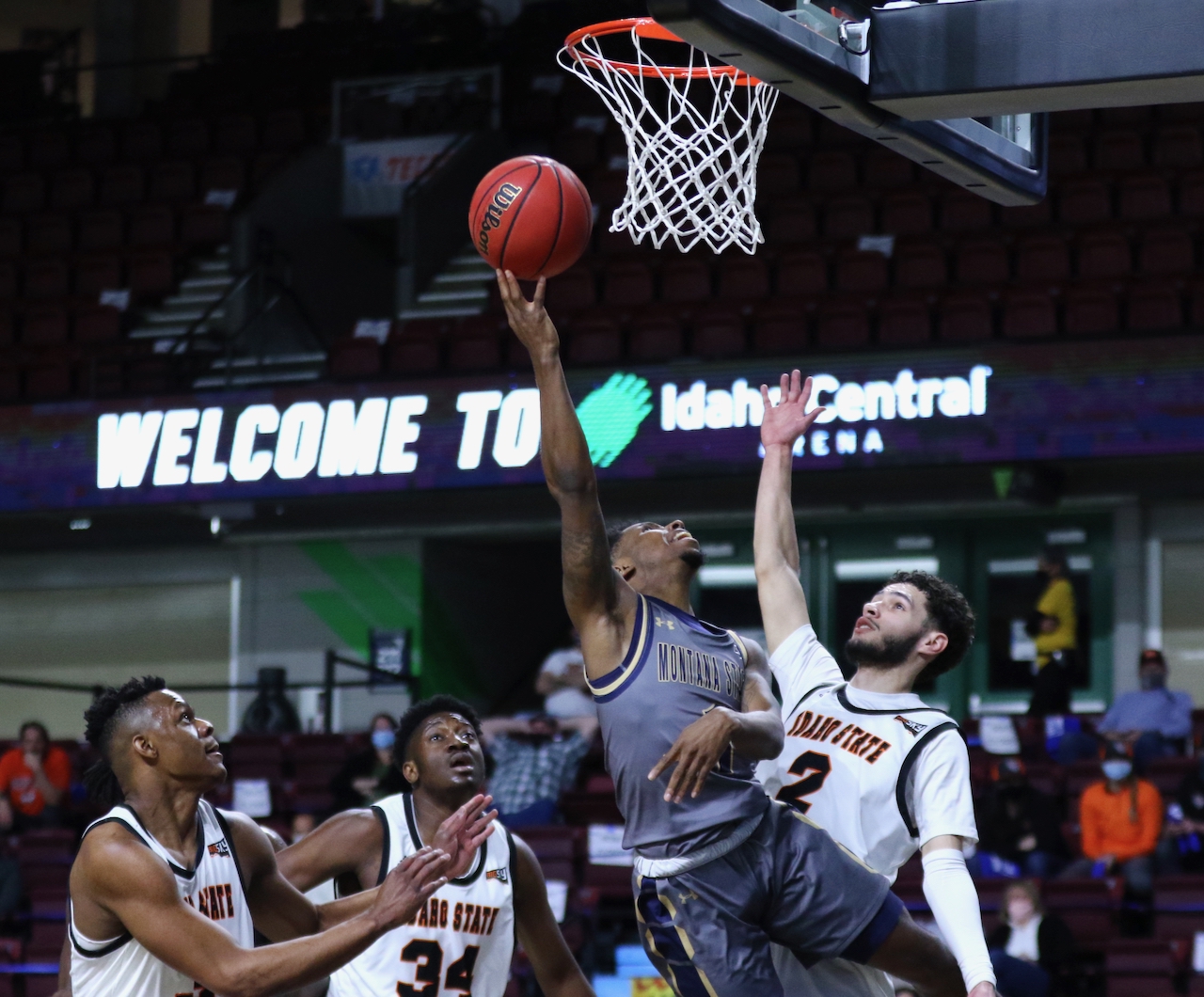 "I would like to thank the Sixth Man Club, especially Ben and Sue Schmitt, as they were a huge part of us being able to bring these three back," said Montana State head coach Danny Sprinkle. "All of our basketball club members played a huge part in being able to bring these three back and I know that they'll make them proud.
"Abdul and Xavier have never played in front of a crowd in Brick Breeden Fieldhouse so that was important to me. When we recruited them, that's what we sold them on. Amin has a couple classes left to graduate so it was important to bring him back before he explores his professional opportunities. It'll be great to have Abdul, Amin and Xavier back and hopefully they help us continue to improve. I couldn't go without mentioning our fourth senior this past season, Devin Kirby. He had a tremendous five years here and he graduated this spring and is going to explore his professional career whether playing overseas or going into the coaching profession. I'm very excited to follow DK's successes in the future as he is a tremendous Bobcat!"
Adamu will enter his third season at Montana State after two years combined at Western Wyoming and Caper College. An All-Big Sky Third Team selection a season ago, Adamu finished the year as MSU's scoring leader averaging 14.7 points per game while shooting 48.4% from the field. He finished among the top 10 individuals in the Big Sky in free throw percentage (80.2%), free throws made (69) and field goals made (121), while his 1.59 steals per contest mark was second best in the Big Sky.
Bishop will play his second season for the Bobcats and fifth year overall at the Division I level during the 2021-22 campaign. Bishop, who joined the Montana State program already as a career 1,000-point scorer, claimed All-Big Sky Second Team honors last season. The Springfield, Ill., native was named Big Sky Player of the Week twice over the course of the season. He led MSU in assists per game (3.9) and minutes per game (32.9). Bishop was among the top 10 in the Big Sky Conference individually in points, assists, minutes played, assist/turnover ratio, free throws made and free throws attempted.
Mohamed joined the Bobcat starting lineup five games into his tenure at Montana State and the team went 11-7 with him in the starting five. Mohamed played two seasons at Gillette College then spent two years at North Texas, redshirting one of those seasons, prior to arriving in Bozeman. Mohamed had two double-doubles during the regular season for MSU and had a career-high 18 points versus Weber State on Feb. 4. Mohamed came on to make a big impact for the Bobcats in the Big Sky Conference tournament by nearly recording three double-doubles. He had an 11-point, 14-rebound effort with his rebound mark setting a Montana State postseason record. He led the Bobcats in the Big Sky championship game by scoring 15 points versus Eastern Washington.