In a game that seemed like one of the only certain wins on an otherwise brutal schedule, the Montana men's basketball team did something unthinkable.
The two-time defending Big Sky Conference champions lost to Montana Tech. Yes, the Orediggers of the Frontier Conference. Yes, the NAIA team from Butte that was supposed to give the Grizzlies a rare reprieve during the grueling final months of 2019.
Consider it a low point for a team gunning for its sixth trip to the NCAA Tournament since 2010.
Fast forward to Montana's first home stand of league play. The defending champions started to resemble the past few Travis DeCuire teams in one way: the Griz started to play defense at an elite and, as DeCuire likes to say, a competitive desperate level.
Montana gutted out a 52-50 win over Sac State to ring in 2020 with a pair of conference victories. UM again outlasted its opponent in a 60-58 win over a talented Southern Utah squad in Cedar City. Both nights, the Griz won despite not showing offensive flow sparingly.
UM's ball movement was not crisp. Senior sharpshooter Kendal Manuel had yet to emerge from his shooting slump. Senior Jared Samuelson did not have his legs fully underneath him after missing time early with an ailing knee. Senior Sayeed Pridgett spent the first four games of league play facing constant traps and double teams that come when you are the preseason Big Sky Player of the Year.
Junior Timmy Falls couldn't find rhythm scoring and that affected his consistency as the primary controller of UM's tempo and the peskiest defensive player the Grizzlies have on their roster. Sophomore Mack Anderson's confidence seemed ready to blossom but he had not quite turn the corner.
And Montana's three standout freshmen — level-headed point guard Josh Vazquez, long and lanky wing Kyle Owens and energetic power forward Derrick Carter-Hollinger — were all still trying to find their way.
Even with a team working on meshing, DeCuire still felt his Griz had a chance to put the rest of the Big Sky on alert if they could move to 4-0 with a win at Northern Colorado earlier this month. That evening in Greeley, Manuel caught fire for the first time in a long time on the way to a career-high 30 points. But Montana lost 74-66.
With Christmas Break providing more flexibility in both practice times and mental commitments, DeCuire and his staff made sure to "get the attention" of their players. The team doubled down when it comes to watching film. DeCuire held one-on-one meetings to help his players further understand their roles. And all of a sudden, the Griz clicked, transforming into a team that showed flashes of a true championship contender once again despite graduating the most successful class in program history less than a year ago.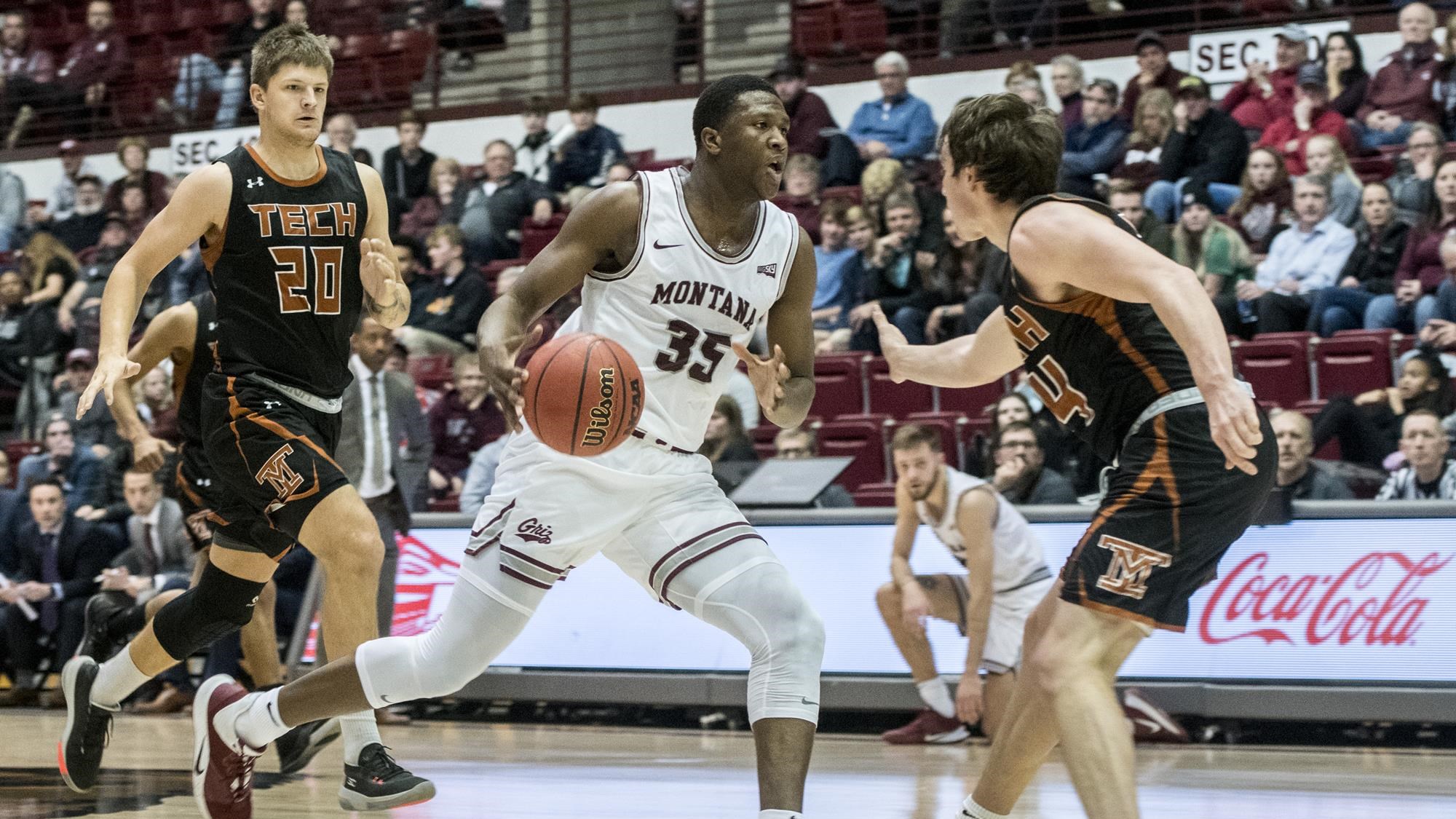 UM made the statement DeCuire thought could happen in Greeley instead five nights later in Cheney, Washington. Behind incredible ball movement — the Griz notched 21 assists on 32 made basket — as well as much more clearly defined roles and Carter-Hollinger's coming out party, Montana smashed Eastern Washington in a rematch of the last two Big Sky Tournament title games, 90-63.
On Monday, Montana clung to a 58-56 lead with 12 minutes to play against Portland State in Missoula. But a relatively new lineup featuring Pridgett at the point instead of in the front court flanked by Falls and Manuel with Anderson and Carter-Hollinger manning the paint helped the Griz bury the Vikings. UM went on a 27-10 run and cruised to an 85-70 win.
"I think we are all locked in right now," said Manuel after scoring 27 points on 11 shots against PSU. "We all know what our goal is at the end of the year and we aren't even thinking about that. We are thinking about game-by-game and getting really dialed in with our scouting reports every single week, making sure everybody is sticking to the game plan. And that's defending. We know our offense is going to take care of itself."
It's revelatory of DeCuire's principles that his players talk about their defensive execution after scoring 175 points and dishing out 41 assists in two games. Holding Eastern Washington to 38 percent and Portland State 40 percent shooting certainly helped Montana break out offensively as well.
"We are getting more mature and playing more as a team," Falls said. "I think our pace on offense and defense has gotten way better since the preseason. As long as we run our offense really well and lock up on D, we just keep improving on it."
Also key to Montana turning the collective corner: Manuel's recent hot hand, Falls' recent steadiness, Carter-Hollinger's recent outburst resulting in Big Sky Player of the Week honors, Anderson's recent energetic play and the continued collective maturation of a team many expected to be in rebuild mode after the graduation of All-Big Sky guards Ahmaad Rorie and Michael Oguine, all-league center Jamar Akoh and defensive stopper Bobby Moorehead.
"Attention to detail," DeCuire said. "We are doing a better job of understanding the scout. The guys are spending more time reading the scouts and they are understanding personnel. Offensively, we are taking care of the ball, moving the ball and I think our shot selection is a lot better right now so our assist to turnover ratio has gotten better."
Falls scored 15points combined in the five games leading up to EWU. He scored 12 that night and seven more, including a dagger 3-pointer late in the game, against Portland State. But the last handful of games, Falls has not allowed whether or not he is making shots — he shot 7-of-18 the last two games combined — to influence any of the other gifts he brings to the court.
Falls' ability to play off the ball when Pridgett plays on the ball has given UM the abilty to play Anderson alongside Carter-Hollinger or Samuelson or to play Anderson and Samuelson together. Pridgett running the show has also taken pressure off Vazquez and given more minutes in the rotation to Carter-Hollinger.
And when Pridgett gets in the lane, he has been an elite distributor as of late. The point forward played point guard in high school in the Bay Area. He flirted with a triple-double against Eastern and PSU. He finished with 18 points, eight rebounds and eight assists against EWU. Pridgett had 18 points, 10 assists and eight rebounds against PSU.
"He started the season off playing the point," DeCuire said. "For the first two months before we started playing games, he was playing exclusively at the point. I knew I could move him back to the 4 when the freshmen got going. Once we got Josh into the flow, I moved him back.
"I knew there would probably be a time when I needed to play him those minutes on the ball. He is a tough matchup."
Manuel's recent scorching shooting stroke has been the most obvious improvement for the Grizzlies. The former Oregon State transfer was the Big Sky's Newcomer of the Year and Top Reserve last season. But he stepped into the role as UM's No. 2 scorer behind Pridgett, which, early on, was a big adjustment.
The first couple months of the season, Manuel could not find the mark. The Billings Skyview product who played two seasons at OSU for former UM head coach Wayne Tinkle poured in 25 points in that now infamous 74-72 loss to Montana Tech. But he missed five of his seven attempts from beyond the arc.
Manuel missed 50 of his first 78 attempts (25.6 percent) from deep, including 1-of-7 against New Mexico and 1-of-8 against Omaha.
But Manuel hit his final attempt from downtown in the win over Sac State and has been ripping the net since. He has made 14 of his last 18 shots from beyond the arc. He is also shooting 89.5 percent from the charity stripe, including 23-of-26 in league play. Manuel is shooting 54.9 percent from the floor in league play. He is averaging 19.5 points per game against Big Sky competition, the third-best in-conference average in the league.
"I just feel more comfortable now," Manuel said. "After the non-conference, (DeCuire) and I had a good film session and I've been able to find my spots where I'm able to score better. I have been staying in my own rhythm and getting to my spots on the floor and taking good shots."
The culmination of collective improvement have Montana sitting atop the Big Sky standings entering Saturday night's matchup against rival Idaho in Missoula. If Manuel scores like he did against Northern Colorado or Portland State, Carter-Hollinger bounds his way to stat lines he had against EWU (20 points, 14 rebounds, four blocks) and Portland State (13 points, four rebounds, two blocks), Falls stays steady and the freshmen keep growing, Montana could be in the driver's seat coming down the stretch.
"You want to get off to a good start and we remind these guys that we have been 4-1 before and one of those, that was our worst season," DeCuire said. "For us, you have to treat it like we are behind and when we have leads, we have to act like we are playing from behind."
"If we continue to try to be a better team today than we were yesterday, we have a chance."