The Bobcats have practiced for five weeks for the first dress rehearsal of Brent Vigen's tenure at Montana State. On Saturday, MSU will have its debut unveiling for the public, although not every standout 'Cat will be in action at Bobcat Stadium.
The Sonny Holland Spring Classic kicks off at 1 p.m. in Bozeman. The county health department has approved up to 2,500 fans to attend the first open scrimmage of Vigen's tenure as a head coach.
After taking over for Jeff Choate, Vigen and his staff have spent the last five weeks — a total of 14 practices, two of which were informal scrimmages — installing new schemes on both sides of the ball. Saturday will mark the first showing for new offensive coordinator Taylor Housewright and new defensive coordinator Freddie Banks, each in their first full-time coordinator position.
And the scrimmage will also serve as the continuation of a quarterback competition that seems like it's been ongoing at Montana State since Choate took over before the 2016 season and Dakota Prukop graduate transferred to Oregon.

"Excited for our guys," Vigen said on Nuanez Now on SWX Montana Television and 102.9 ESPN Missoula. "It's been a long time. They had practice in the fall and they played in front of an empty stadium for their fall scrimmage. You have to go all the way back to December of 2019 as far as playing in front of fans and playing in front of fans here at Bobcat Stadium so this is exciting.
"When we started talking about having a spring like we have a spring game, we were crossing our fingers that we could be in this scenario where it could become an event and I think it is. I think it will be that for our guys."
Saturday's action will include the first public showcase for a collection of young Bobcats who have garnered a significant amount of hype both internally and externally, stemming from the praise of Choate as well as the new coaching staff along with their pedigree established during their high school days.
Highly regarded players like running back DeMareus Hosey, cornerback Tylor Bohannon, wide receiver Jaden Smith, running back/linebacker Jaharie Martin, defensive tackles Tua Areta and Blake Schmidt, offensive lineman Holden Sampson and tight end Ryan Lonergan all redshirted in 2019 and have not had an opportunity to perform in front of fans since.
Standout true freshmen, most of whom arrived on campus last summer, including quarterback Tommy Mellott, a former Montana Gatorade Player of the Year from Butte, along with lightning bolt receiver Charles Brown (Smith's cousin), running back Elijah Elliott, outside linebackers Brody Grebe and Aidan Parks, inside linebacker Danny Uluilakepa, offensive linemen Jacob Kettels and Rush Reimer along with explosive defensive end Sebastian Valdez are all expected to make a splash for the first time in front of a crowd despite being on campus for nearly a full year.
"For a lot of our guys who came here and redshirted in 2019 or they came here in 2020 and they haven't been a part of a game, at the very least Saturday will give them the feeling of what it is like to have to perform in front of fans," Vigen said.
While the younger players are sure to take center stage — Vigen confirmed many of his headliners will not participate, specifically naming All-American candidates like seniors Troy Andersen, defensive end Amandre Williams, defensive tackle Chase Benson, cornerback Tyrel Thomas, juniors safety Ty Okada and defensive end Tyson Regimbal, sophomore quarterback Casey Bauman and redshirt freshmen safety Rylan Ortt and offensive tackle T.J. Sessions — the schemes, and the subsequent evaluation of the fresh-faced coordinators, will be simplified significantly.
"The biggest thing on Saturday is who can go out there, block and tackle, who can get off blocks, who can play with the ball in the air," VIgen said. "From a running back perspective, who can make a guy miss. You pair down the scheme a little bit in a game like this so you can see who wants to go out and play."
The new Bobcat head coach and the handful of new assistants — Housewright, Banks, defensive line coach Shawn Howe — have spent recent weeks not only implementing new schemes but also a new coaching style that is more tempered and perhaps more detailed when it comes to offensive strategy.
But Vigen said Saturday will be used to set the expectations for the roster from top to bottom rather than displaying diverse schematics. And of course, Saturday will be used to at least perhaps establish which quarterback has the inside track on starting for a program who has had a different opening-day signal caller every seasons since 2015.
"You set a depth chart out of spring ball as if you are going to play next week. I think guys need to know where they stand entering the off-season," Vigen said. "I think some guys will have earned starting positions at that point. They need to know why they earned it and what they need to do to maintain it.
"I think it's important that each and every guy on our team gets feedback on where they are at and where they stand. They really have three months in front of us now to hit the practice field and continue to change and evolve."
Vigen, who was an assistant coach at North Dakota State, his alma mater, for close to two decades before spending the last seven seasons as the offensive coordinator at Wyoming, has navigated his first spring by trying to first evaluate what he has on his roster.
Position battles internally are pretty standard for a veteran of the college football coaching world like Vigen. But Saturday will begin the external evaluation where Vigen starts to solidify his two-deep depth chart and analyze where his talent fits in on the national landscape.
"While some of these teams have played in the spring — and we've caught glipses here and there but by no means have we been in game-planning mode — I know when we get through some spring ball evaluation and some dedicated recruiting time in May, we will shift gears to the fall, certainly preparing for fall camp," he said.
"I think that's when we get a better feel for how we match up."
Here's a look at the primary positions to watch during Saturday's action.
QUARTERBACK
Since Rob Ash's dismissal despite his status as Montana State's all-time leader in head coaching wins and the subsequent transfer of Prukop, MSU has had a constant revolving door at quarterback, quarterback coach and offensive coordinator.
Housewright will be MSU's ninth offensive coordinator since the beginning of the 2010 season, including the fifth in the last five seasons. If a quarterback other than Tucker Rovig starts, it will be MSU's sixth starting quarterback since Choate took over.
Vigen acknowledged that junior Matt McKay, an NC State transfer brought in by Choate's staff in January of 2020, was "likely anointed as the starter back in the fall" but also added "he's had to come in and earn it on a daily basis."
McKay's main competition has been Bauman, a 6-foot-7, 238-pound prototype with athleticism and arm talent to burn. The native of the Nooksack Valley in Northwestern Washington started the first two games of MSU's 11-4 season in 2019 before giving way to Rovig.
Bauman suffered a broken rib that will keep him out of Saturday's action. While Vigen didn't mention some of his former pupils, he helped mentor future NFL quarterbacks like Carson Wentz (6-foot-6, 230) and Josh Allen (6-foot-6, 245), two quarterbacks who have shined at times in recent years in the NFL, at his last two coaching stops. And Bauman has those measurables.
"I'm pleased with (Bauman's) growth. He's a guy who possesses a lot of God-given talent, elite size, great athleticism and he's going to be a guy who I continue to work with," Vigen said. "He played at the beginning of the 2019 season and I don't think it went how he wanted it to. I'm pleased with the way he approached this spring and I'm excited what he can do."
That said, it will be McKay, Rovig, Mellott and redshirt freshman Blake Thelen taking the majority of the repetitions.
"I think all five guys bring a different thing to the table," Vigen said. "…While Matt hasn't been perfect, he's been growing himself on a daily basis. He certainly plays with ability to throw the ball even if he's more known for his athleticism. He's continued to make strides every day.
"Tucker has a wealth of experience behind him and it's apparent he's a smart player who can get some things done and has done that on Saturdays," Vigen said.
DEFENSIVE LINE
Choate and his protégé former defensive line coach Byron Hout helped MSU earn a reputation as one of the most formidable defensive fronts in the FCS over the last few seasons. MSU faced the challenge of replacing all-league linemen like nose guard Tucker Yates, defensive tackle Zach Wright and strong end Tyrone Fa'anono heading into 2019.
Montana State did it flawlessly. Benson blossomed into an All-Big Sky interior tackle, Williams transferred in from Washington and assumed all-conference form opposite fellow former UW transfer Bryce Sterk, who had All-American caliber numbers in each of his two seasons at MSU. And Derek Marks thrived after moving from end to tackle, also getting an All-Big Sky nod.
Although Benson and Williams return, MSU faces a drastic scheme change, moving from an odd-man front to a more traditional 4-3 scheme. That means Benson will play tackle instead of nose. Williams will play end instead of Buck. And players like Schmidt, juniors Kyle Rygg and Byron Rollins and senior end Kyle Finch will be asked to rise their level of play under altered position requirements.
The first player, however, Vigen mentioned when asked about the defensive line is former Sam linebacker Daniel Hardy, who is now playing defensive end entering his senior season.
"Daniel Hardy is the one guy who has played some," Vigen said. "He backed up Troy Andersen , he backed up Amandre back in 2019, was a real good special teams player. He's physically developed quite a bit since then and he's a guy who plays with a consistent motor. I'm really pleased with his progress."
Vigen also mentioned Valdez, a 6-foot-3, 260-pounder who, like Schmidt, hails from Monte Vista High in San Diego. Vigen said Valdez and Schmidt will "fit into the mix in some degree next fall."
"We have a ways to go fortifying our depth. It's been the position group that has been hit hardest by the injury perspective. Coach Howe is doing a really good job with that group."
SECONDARY
The tenacious Thomas is entering his fourth year as a starter after coming to MSU from national powerhouse St. John Bosco Prep in Southern California. Okada is the opposite, a former walk-on from the Minneapolis area who has carved out a leadership role with the Bobcats because of his gritty play over the last few years.
Neither will be available on Saturday. Neither will Ortt, a cerebral and smooth 6-foot-1, 205-pounder who prepped at Missoula Sentinel. Montana State is looking to replace three standout safeties, including 2019 All-American and team captain Brayden Konkol.
MSU also has to replace stalwart corners like Damien Washington and Greg "Munchie" Filer III, the former who graduated and the latter who entered the transfer portal in the off-season.
Plenty of rising players, including Bohannon, true freshmen cornerback Miles Jackson and Devin Davis, sophomore cornerbacks Eric Zambrano and Level Price Jr. will all get elevated reps. Vigen also named a few talented but unproven players when asked about the secondary.
"Guys who will be on the field on Saturday that will certainly be impactful in the fall include Jeffery Manning, a transfer from Oregon State, who is penciled in at free safety but brings some flexibility, a great opportunity for him to grow and for us to evaluate him.
"James Campbell, a young man who has been here for awhile but started at the receiver side is now playing corner. I've appreciated his growth through the spring. I think it's a group where if you look at our safeties, our corners, our nickels, that has a bunch of ability."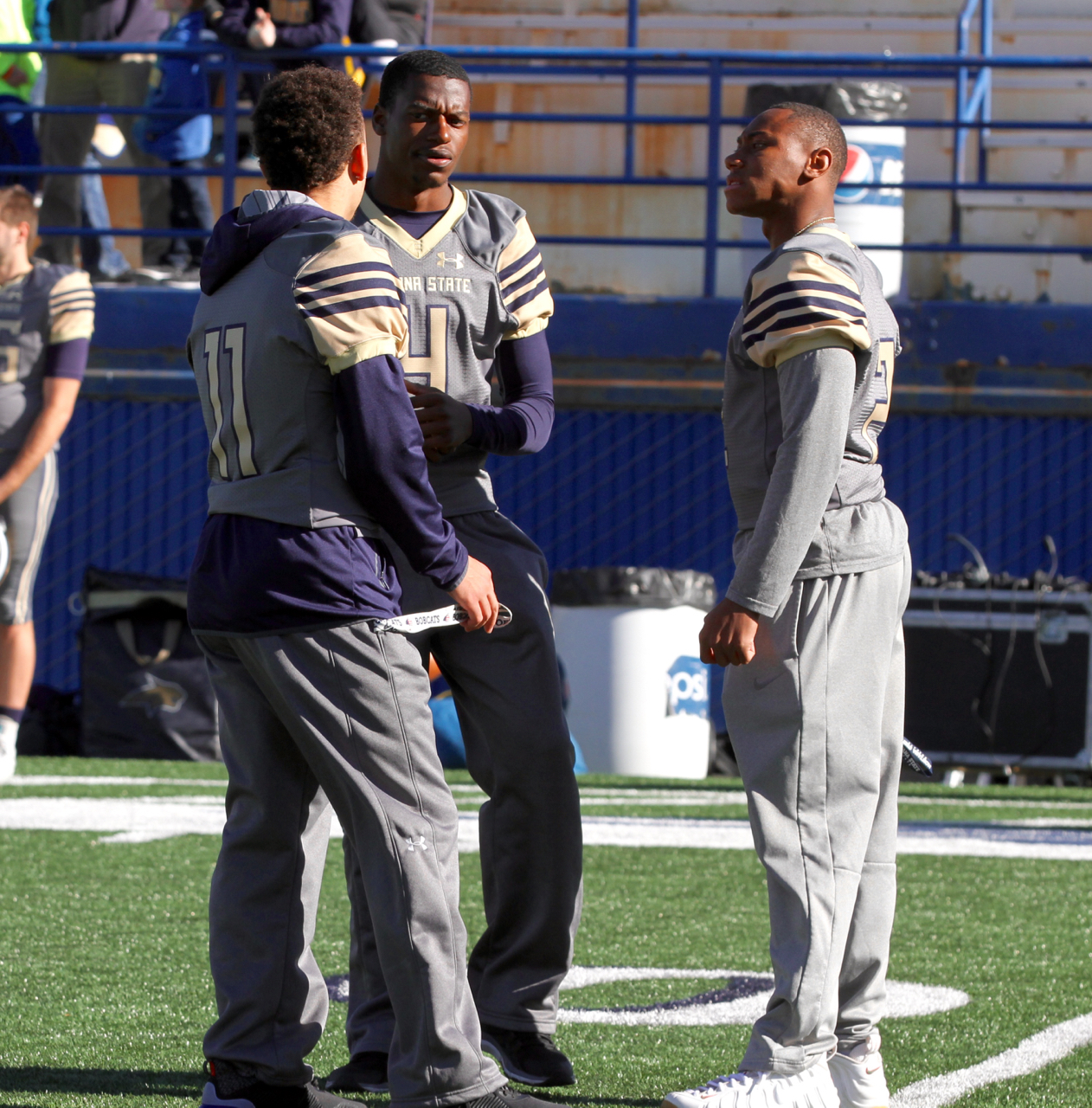 The MSU roster includes three players — Thomas, Price, Bohannon — listed at corner while Zambrano, Campbell, Okada, Davis, Ortt, sophomore Kendrick Bailey and true freshman Connor Ryan are listed at defensive back. Only Manning, redshirt freshman converted quarterback John Knight and true freshman Jake D'Agostino (also a converted quarterback out of Bozeman High) are listed at safety.
That's 13 players in the secondary, including only Thomas and Okada as proven producers.
"We have good depth even if we lack game experience collectively," Vigen said. "And there is competition. Guys are really having to get out there and compete for their time and I think that has been apparent. Our growth is on going there and we like the ability and the direction they are heading."
Photos by Brooks Nuanez. All Rights Reserved.