Last week was a rough one. A humbling 4-7, but we are back this week. Two more weeks of non-conference and then we can start the real fun. The Big Sky Conference performed well against FBS opponents but seemed to overlook Division II opponents last week.
Idaho State started slow, and never seemed to be able to close out Western Colorado. This game could have easily been a one score game had there not been an interception on the one-yard line. Not a great start for the Bengals. And they failed to cover against a Division II team at home.
Sacramento State looked great last week. The Hornets held a talented Arizona State team to 19 points and had every opportunity to win in Tempe. They easily covered the 36-point spread.
Eastern Washington had a great day on offense and didn't seem to care on defense. They gave up 31 points to a Division II team, but they also set a single game record in total yards on offense. The Eagles failed to cover a massive 43.5-point spread.
Portland State had no problem covering a 43.5 point spread at home in a 70-7 win over Simon Frase,r and Northern Colorado didn't keep it close on the Palouse in a 59-17 loss at Washington State. Southern Utah covered a 24-point spread after trailing by 24 at the half in a 34-14 loss at Northern Iowa. Bad beat if you ask me.
UC Davis didn't cover on the road but forced a fumble that later turned into a touchback in the final seconds of the game to defeat San Diego, 38-35.
Both Montana and Montana State dominated at home and showed how hard it is to win in the Treasure State.
Cal Poly almost covered for us against Weber State, but a late touchdown ruined our hopes in WSU's 41-24 win. Central Washington lost by 10 to Idaho in the Kibbie Dome, 41-31. Northern Arizona had a strong second half and covered for us in Tucson. in a 65-41 loss at Arizona.
Week 2 Record: 4-7
Overall Record: 10-11
Week 3
Lock of the Week: Montana State -3 (Season 2-0)
Best Investment: Weber State +255
Over/Under Lock of the Week: Cal Poly/Oregon State Under 76. (Season 0-2)
Saturday September 14
Montana State @ Western Illinois (+3) O/U 46 2:00 PM
Montana State comes off a week where a rush heavy attack and a fierce pass rush propelled them against a top 15 team in SE Missouri State. Western Illinois is looking to get back on track after dropping the season opener to Northern Alabama (Yes…the team the Griz dominated last weekend) and last week to Colorado State. Western Illinois is giving up 155 rush yards per game and 355 pass yards per game. This is a bad match up for Montana State, who has yet to prove if they can throw the ball. I'm taking Montana State on the road -3. This is my lock of the week.
Pick: Montana State -3 (Lock of the Week)
Eastern Washington @ Jacksonville State (+14) O/U 72.5 2:00 PM
Eastern Washington's defense perhaps played down to its opponents last week, giving up 31 points. This is one of the biggest non-conference games of the preseason and the Eagles are on the road against the power of the Ohio Valley. The 17th-ranked Gamecocks host Eagles who are No. 4 in the country. Jacksonville State was upset in their season opener but bounced back in their second game. The Eagles offense set a single game record for yards last week (769), and I believe they are going to have to keep this up to win this game. The Eagles will win on the road, but not by 2 touchdowns. I'm taking Jacksonville State +14 at home.
Pick: Jacksonville State +14
Idaho State @ Utah (-36.5) O/U 64 2:15 PM
Don't let Idaho State's 38-13 win over Western Colorado fool you. That could have and should have been a single digit victory for the Bengals. Utah's QB Tyler Huntley is not a Division II QB. He has the 11th-ranked Utes contending for a Pac-12 championship spot early in the season. And Utah has one of the fastest defenses in the West. I don't see Idaho State keeping it close and it should be a 3-score lead at the half. I'm taking the Utes -36.5.
Pick: Utah -36.5
Cal Poly @ Oregon State (-14.5) O/U 76 2:15 PM
Cal Poly opened as a 17-point underdog and the line has moved to 14.5. Nearly 70 percent of the money is currently placed on Oregon State. The Beavers have not won a game this year and have put up poor performances against Oklahoma State and Hawaii. Cal Poly has an impressive win against San Diego and had a tough loss on the road against Weber State. I like Cal Poly to keep it close for majority of the game. Unfortunately, the triple option is about match ups and I think Oregon State's defensive line will have a large impact on this game. I like Oregon State to cover at home -14.5. This is also my Over/Under Lock of the Week: Under 76.
Pick: Oregon State (-14.5). Under 76
Idaho @ Wyoming (-25) O/U 55 3:00 PM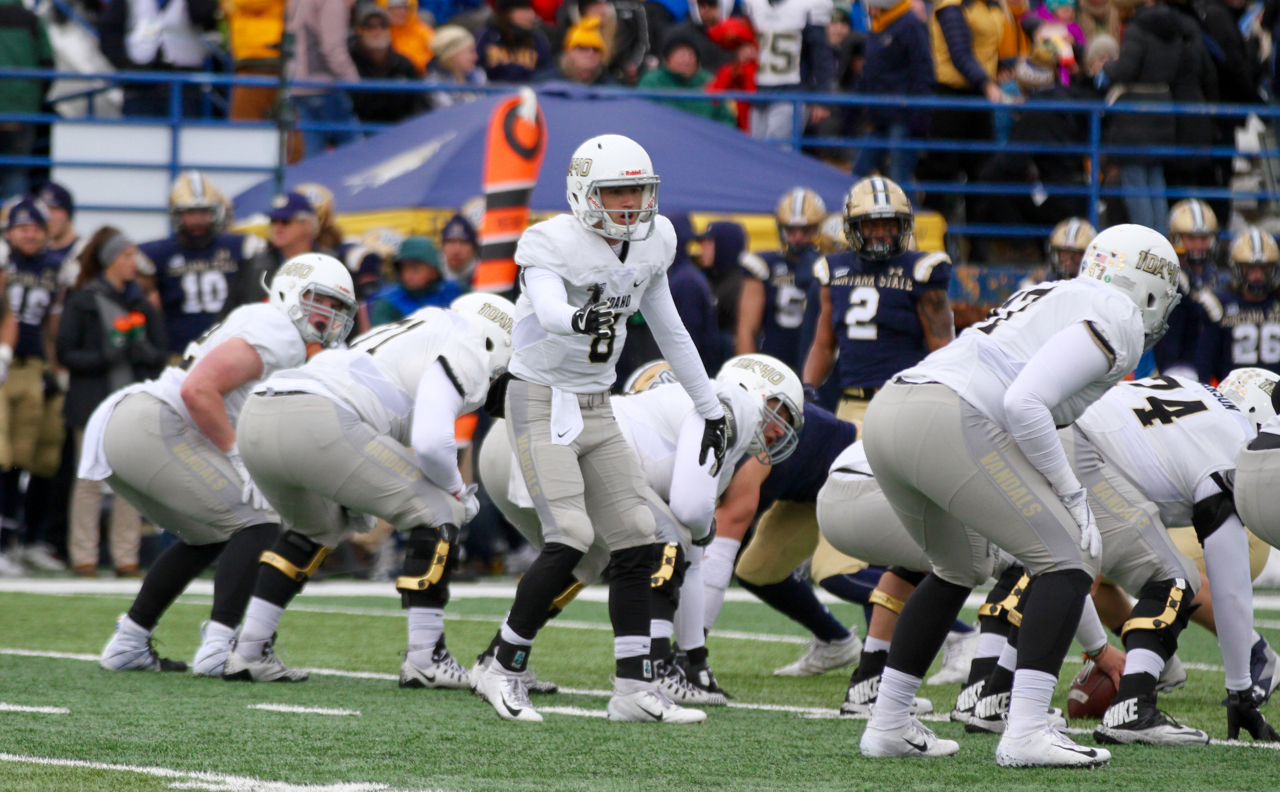 Idaho beat Division II opponent Central Washington by 10 points at home last week. Last time Wyoming played at home they beat Missouri. Wyoming has scored 60 points this season, while Idaho gave up 79 points the last time they were on the road at Penn State. Idaho seems to have decided on Mason Petrino at quarterback for the season. He completed 16 of his 30 attempts to one receiver last week. I think the Pokes roll at home. Wyoming -25.
Pick: Wyoming -25
Weber State @ Nevada (-9) O/U 51.5 5:00 PM
Weber State lost to San Diego State in the first week, 6-0. SDSU then went on to beat UCLA on the road. Nevada opened with a huge come from behind win against Purdue, but had the doors blown off them by the Oregon Ducks last week. None of this information seems to help make picks. Thirty percent of the money is on Nevada.
Expect this line to be a lot lower by Saturday, so if you're betting, get them in sooner rather than later. I'm going to fade the public money and take Nevada -9. But I could see Weber State winning this game outright and that's why it is my best investment of the week (Weber State +255).
Pick: Nevada -9
Western New Mexico @ Northern Arizona (-33) O/U 63.5 5:00 PM
Northern Arizona had a beautiful back door cover last week in Tucson. Quarterback Case Cookus looks to really open the offense this week against a Division II opponent. I think NAU will be looking towards a tough test at Illinois State next week, but first-year head coach Chris Ball has had the Lumberjacks headed in the right direction. There is no place like dome, and I like Northern Arizona to cover -33.
Pick: Northern Arizona -33
Stephen F. Austin @ Southern Utah (-7) O/U 60 5:00 PM
Stephen F. Austin lost to Division II Tarleton State at home last week by two scores. Southern Utah has had a rough start to the season but has lost to two quality football teams. Still, SUU enters this game with 12 losses in its last 13 games. I think the oddsmakers are wrong here. I think Southern Utah should be a double-digit favorite. I like the Thunderbirds to cover in their home opener -7.
Pick: Southern Utah -7
Northern Colorado @ Sacramento State (-3) O/U 64 7:00 PM
Sacramento State opened as a 10.5 favorite against Northern Colorado. I have been impressed with Sacramento this season. The Hornets were competitive against Arizona State last weekend and had a chance to win. Northern Colorado has lost to two FBS opponents to start the season. Public money is on the Hornets. The public loses. I like veteran Quarterback Jacob Knipp to lead the Bears to victory in Sacramento. I'm taking Northern Colorado +3.
Pick: Northern Colorado +3
Lehigh @ UC Davis (-37) O/U 62.5 8:00 PM
UC Davis gets a break after opening against Cal and battling Cal Poly last weekend. Lehigh has had a slow start to the season and makes the long trek from Pennsylvania to California. UC Davis is a great football team, but they play defending champion North Dakota State next week. Lehigh will lose, but the Mountain Hawks have a great opportunity to cover. I like Lehigh +37.
Pick: Lehigh +37
Portland State @ Boise State (-31.5) O/U 54 8:15 PM
Portland State has opened strong in 2019. They were competitive and lost by seven points to Arkansas and took care of business against a Canadian opponent last week. Boise State opened the season with a comeback victory on the road in Tallahassee. I think Portland State has a great opportunity to cover. They have shown great offensive and defensive abilities to start this season and I think this game will be close. I like Portland State to cover on the Smurf Turf. Portland State +31.5.
Pick: Portland State +31.5
Montana @ Oregon (-37.5) O/U 67 8:45 PM
Montana scored 61 points last week at home. The Ducks scored 77. Oh, this game will have points. There are a few factors that may hurt the Griz here. Oregon must make a statement in order to contend for the FBS Playoff. Oregon has a very strong defense this year. And UO sports the best offensive line in college football.
UM seniorDalton Sneed threw for 269 yards last weekend and the defense was dominant in the second half. Bobby Hauck will have his hands full with Justin Herbert, the potential No. 1 selection in next spring's NFL Draft. I like the Ducks to cover at Autzen. Oregon -37.5.
Pick: Oregon -37.5
| | | | |
| --- | --- | --- | --- |
| Matchup | Spread | O/U | Time |
| Norfolk State @ Montana State | -27 | 51 | 1:00 pm |
| Pick: Montana State -27 | | | |
| Eastern Washington @ Idaho | +11.5 | 69 | 1:00 pm |
| Pick: Eastern Washington -11.5 | | | |
| Monmouth @ Montana | -23.5 | 63 | 1:00 pm |
| Pick: Montana -23.5 | | | |
| UC Davis @ North Dakota State | -25.5 | 59 | 1:30 pm |
| Pick: UC Davis +25.5 | | | |
| South Dakota @ Northern Colorado | +6 | 65 | 2:00 pm |
| Pick: South Dakota -6 | | | |
| Eastern Oregon @ Portland State | N/A | N/A | 2:05 pm |
| Pick: N/A | | | |
| Idaho State @ Northern Iowa | -14 | 49 | 3:00 pm |
| Pick: Northern Iowa -14 ; Over 49 | | | |
| Southern Utah @ South Dakota State | -28.5 | 60.5 | 5:00 pm |
| Pick: South Dakota State -28.5 | | | |
| Norther Arizona @ Illinois State | -10.5 | 54 | 5:30 pm |
| Pick: Northern Arizona +10.5 | | | |
| Sacramento State @ Fresno State | -22.5 | 54.5 | 8:00 pm |
| Pick: Sacramento State +22.5 | | | |